For a fresh install of the 3.0 install on the F-90BT. This takes about 30 minites to complete. You will need 3 SD cards (2GB or higher) formated to FAT32. With the following on each card as you see below. Please make sure you have a back-up copy of your unit before you start. With this way below you will lose everything on your radio, Settings, Address, Radio Station..... ETC. You get the piont. This will make the radio just like new & you will have to set everything over again. This is just to show you how i did it. Please use at your own risk.
Thanks to Retell for making a guide & SK360 for the files.
This is the noob version of the install... simple & easy with pictures.
ONLY DOWNLOAD FILES IF YOU OWN THE RIGHTS TO USE 3.0
Dragon24 nor Avic411 Condones Piracy.

Please note this is not the official Retail Pioneer 3.0 Update! If you break your unit, Pioneer will NOT fix it for free! You can purchase the official 3.0 Update SD Card from Pioneer's website.
New Links: Follow that post on the how to install.
AVIC X910: Software 3.010100 & Extra's Mods Just Add Maps
Mods Added:
Skip Navi screen Warning Nag
Branded POI icons :UPDATED: 02-11-2010
Turn The Redlight/Speedcam Features On: Here or Here
Software mod "bypass"
XM August 2009 Logo Update
Testmode 2.3
Hacked EZRider & License
WINCEIMG: From 3.010100 update. Use if needed.
TELEATLAS 2010.06 North America Maps and Premium Pois ~ USA, Canada and Mexico
I added the cracked EZRider.exe & License files. Tested on the Emulator & Still use at your own risk.
Please make sure you back-up your files before you copy over them.
Step 1: Download the needed updates
Step 2: Put Downloaded updates on the 3 SD cards
Step 3: Start your car. (If not you might kill your battery)
Step 4.0: Turn unit on. When the pioneer logo comes up,
Step 4.1: press and hold the menu, map, eject buttons at the same time and hit the reset button.
Step 4.2: Once you hit the reset button, you will hear a pop sound from your speakers.
Step 4.3: Then the DVD/CD drive will load. When you hear this let go of the eject button but continue to hold menu and map buttons.
This will bring you to a blue screen where you will have to enter the service combination.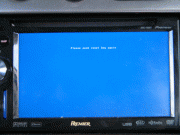 Step 4.4: Press the volume knob in this sequence and you will see * signs for each push: Up, Up, Down, Menu, Left, Right.
Step 5: Put in your SD 1 card with the WinCEIMG files. (Use the WinCE files from the X-Series Update. Files are in the PLT folder)
Step 6: Select Update CE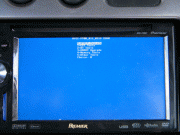 Step 7: Select Update SD Format (This will clear your FlashDrive)
Step 8: Wait till it says restart in the bottom center. This will take about 2-3 minites to install.
Step 9: Remove your SD 1 (WinCE) from the AVIC.
Step 10.0: Insert the SD 2 (TestMode V2.3) into the AVIC and hit the reset button.
Step 10.1: Once WinCE boots up, double Click on My Device at the top left of the screen. Sorry for the blury screen
Step 11.0: Put in SD 3 (X910) in your unit.
Step 11.1: Open Storage Card Folder/Icon. ( Icon will pop in on the left)
Step 11.2: Click edit at the top of the window & select all. With all the items selected. Go back to the top & click edit & copy. Close the folder.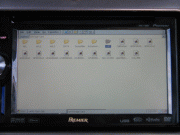 Step 12: Click back into My Device & open My Flash Disk. Click edit at the top & go to paste. A window will pop up & ask you to overwrite files. Click Yes.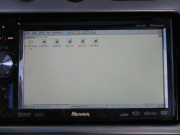 (Should take about 20-30min)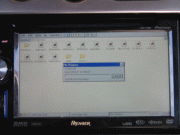 Step 13: Press and hold restart and eject for 5 seconds.
Step 14: Enjoy your new 3.0